Sustainable Weight Loss with GLP-1 Medications
Lose fat not muscle
Feel more energized
Reduce cravings
Feel full faster
Take control with GLP-1 medications
Our medical providers offer solutions that are safe and effective for patients' unique challenges.
Stay motivated with a complete care team
Dedicated to guiding and supporting patients throughout their entire journey.
Finally, an Option that helps people feel better, live healthier, and lose weight.
At Options Medical Weight Loss™, we believe everybody can live a happier and healthier life through lifestyle changes and proper nutrition. But we get it. The weight loss journey isn't easy for everyone and you shouldn't have to wait years to get your life back. That's why, along with our customized weight loss programs, we prescribe FDA-approved appetite suppressants and other medications to help in the process. And with our weight loss health coaches standing by, we'll be with you every step of the way to help you achieve your goals.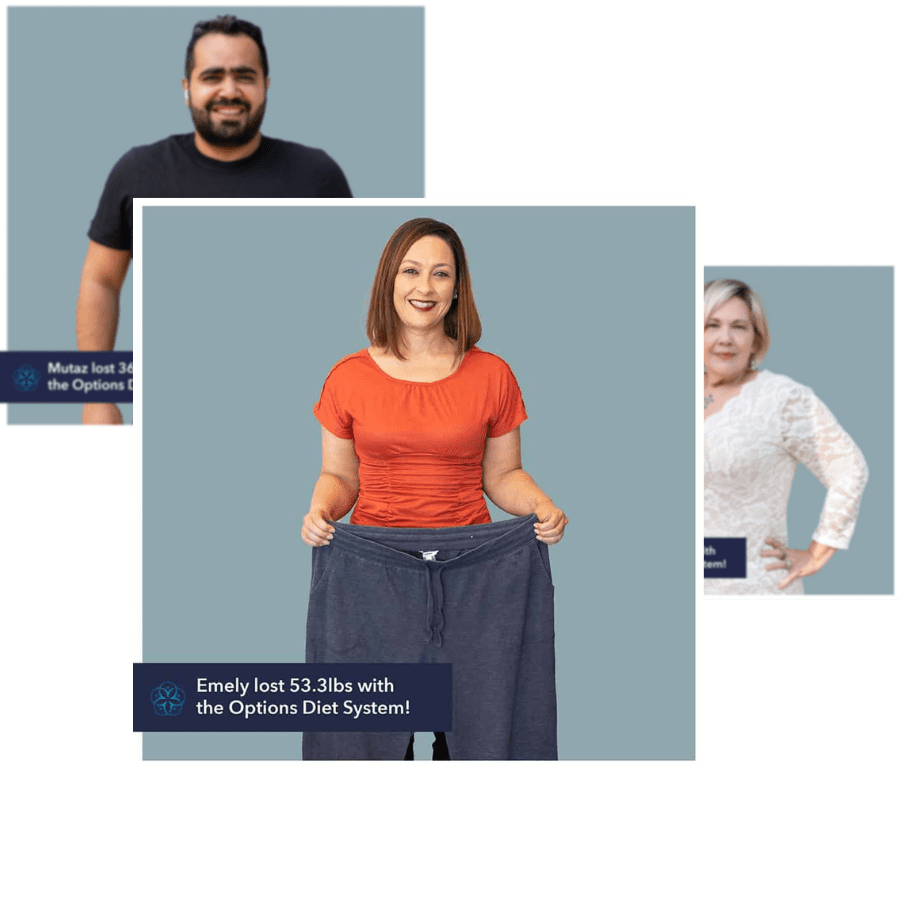 Take the first step today, schedule online
Schedule a FREE appointment with one of our highly knowledgeable weight loss specialists in your local area.
Free consultation
and metabolic scan
Get your free assessment and learn what Options weight loss program works best for you.
Get support when
you need it
Our one-on-one in-person counseling will help keep you on track with your weight loss goals.

Physician
Supervised Programs

Prescription Weight
Loss Medications

One-on-One
Health Coaching
Don't take it from us.
Hear stories from real patients that have transformed their bodies, and their lives with help from Options Medical Weight Loss.
Board certified.
Patient approved.
Options Medical Weight Loss™ is a physician supervised weight loss center overseen by Dr. Katrina Mattingly, board certified obesity medicine specialist and Chief Medical Officer. Just like Dr. Mattingly, all of our doctors are board certified and have the utmost knowledge and training in obesity medicine. Our clinical executive leadership team has a combined 40 years of experience. Each of our doctors care deeply about their patients and will do whatever they can to provide a great experience on the weight loss journey.
Find the option that works best for you.
It's more than losing the weight, it's a lifestyle makeover that everyone will see. Whether it's getting ready for summer, or getting ready for the rest of your life… Options Medical Weight Loss™ can help! Did you know, Options Medical Weight Loss has 30 different programs to help you meet your weight loss goals.
Let us share with you a few of our premier trademarked programs:
Thanksgiving Day in America centers around gratitude. A 'feast' or large meal is a quintessential part of Thanksgiving Day for many people to celebrate things they're thankful for. Wherever you are in your weight loss journey, a Thanksgiving meal and other food-focused holidays can pose a formidable challenge. Read on for tips to have a healthy holiday and avoid