Oak Lawn, IL Weight Loss Clinic
Options Medical Weight Loss Clinic in Oak Lawn, IL
Up To 35% Off All Programs
Options Medical Weight Loss
5116 W 95th St.
Oak Lawn, IL 60453
Phone: 708-398-3226
Direct Line: 708-575-1554
Monday: CLOSED
Tuesday: 8am-7pm
Wednesday: 8am-7pm
Thursday: 8am-1pm / 2-7pm
Friday: 8am-2pm
Saturday: 8am-2pm
Sunday: CLOSED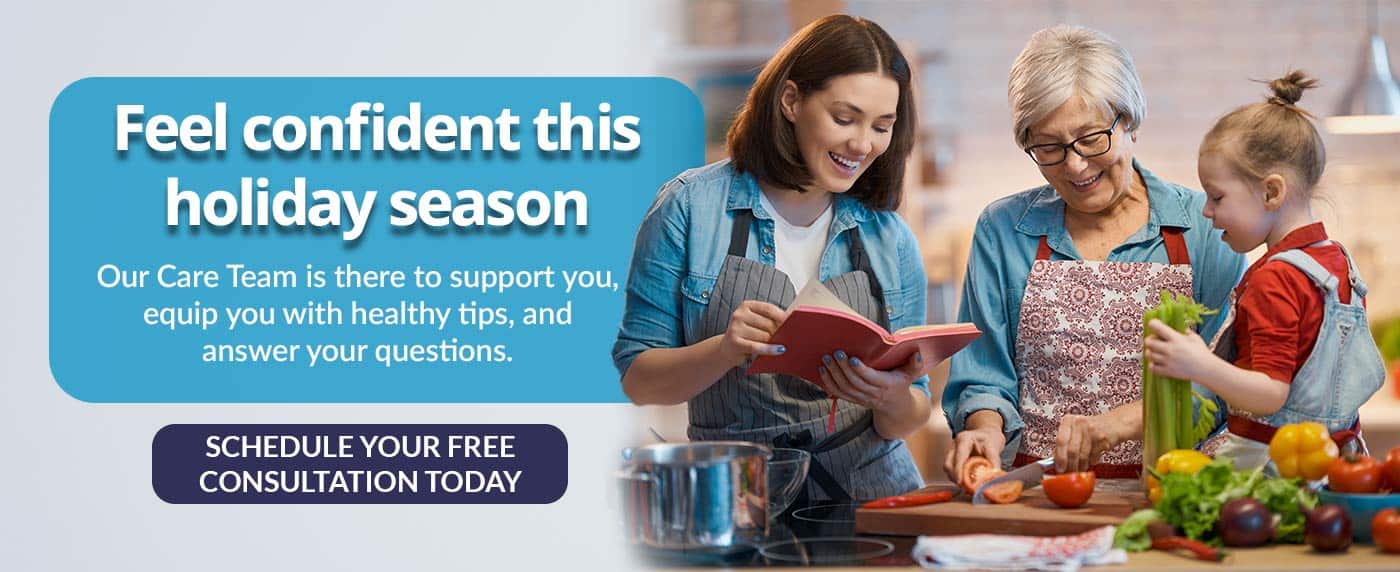 Our Oak Lawn, Illinois weight loss center offers customized weight loss solutions designed by doctors, proven through science.
At Options Medical Weight Loss in Oak Lawn, our board-certified obesity doctors design custom-tailored programs for each individual that walks through our doors. Using the patient's unique biomarkers and medical history, we employ a wide variety of scientifically-proven solutions to suit their specific needs and evolve their program over time. But don't be fooled. We're not a team of faceless white coats hidden away in a laboratory. When you join Options, you're not just getting a doctor—you're getting a friend, a coach, and a fan. Every step of the way, we'll be by your side to monitor your progress and cheer on your success.
Start your journey. What better place than here? What better time than now?
Don't take it from us.
Hear stories from real patients that have transformed their bodies, and their lives with help from Options Medical Weight Loss.
How Does Options Medical Weight Loss in Oak Lawn, IL Work?
At Options Medical Weight Loss, our board-certified obesity doctors will design a customer-tailored program for everyone that walks through the door, starting with a free metabolic and complimentary consultation. Once we have the patient's unique biomarkers and medical history, we employ a variety of scientifically proven solutions that suit their specific needs.
Here at Options, we aren't a team of faceless whitecoats hidden away. As the program progresses and your weight loss journey moves on, we evolve the program to fit your journey. When you join Options Medical Weight Loss clinic, you're not just getting a doctor—you're getting a friend, a coach, and a fan. With you every step of the way, our staff will make sure you have everything you need to succeed.
What Weight Loss Services Do We Provide at Our Oak Lawn Weight Loss Clinic?
While our weight loss center has many different plans, some of the more popular weight loss options for our Oak Lawn clinic include:
Just know that Options Medical Weight Loss is here to help, and we will find the perfect customized weight loss plan that works for you. Stop waiting to start your weight loss journey and start to get healthy today. Health and a better life are waiting for you at your Oak Lawn Options Medical Weight Loss. No matter if you want to start a prescription program or have questions about our modified ketogenic diet, our range of expertise caters to all our patient's individual needs.
What Areas Does The Oak Lawn Weight Loss Clinic Service?
Our Oak Lawn, IL clinic is located just south west of Chicago, and provides services to Oak Lawn and the surrounding areas, such as Lemont, Oak Park, Homewood, South Holland, Bridgeview, and many more! When you walk into this location, you'll be greeted with smiling faces who are ready to get you started on your weight loss journey. Don't' wait! Stop in for a visit or schedule a free consultation today.
Oak Lawn, IL Weight Loss Services
Explore some of the services and methods of Options successful weight loss:

Physician
Supervised Programs

Prescription Weight
Loss Medications

The choice to improve your life through weight loss can be tough. There will always be questions regarding how to lose the weight in the first place, what to eat and how to maintain the weight loss. The simple truth is that successful weight loss requires supervision from a medical weight loss professional. This is the reason Options Medical Weight Loss™ opened easy-to-reach weight loss clinics in areas where regular people live and work. In fact, Options Medical Weight Loss has opened a medical weight loss clinic in your own back yard in Oak Lawn, Illinois. The weight loss clinic in Oak Lawn, IL is also a quick drive for patients interested in medical weight loss living or working in:
Oak Lawn, IL Weight Loss Clinic
Options Medical Weight Loss Center™ Oak Lawn
At our Options Medical Weight Loss Center™ in Oak Lawn, you will always find everything you need to successfully lose weight and look your best. This clinic location offers medical weight loss supervision to men and women alike who want to achieve their weight loss goals using highly successful services and programs.
MEDICALLY SUPERVISED DIET PROGRAMS
Transform your body, both inside and out, while receiving the support you need throughout your entire weight loss journey. Each and every patient is under the care of a medical weight loss doctor, a medical professional who has received weight loss patient-oriented special training and certification. There is a well-trained staff to support you, including a weight loss counselor.
The weight loss professionals in this medical clinic have the ability to prescribe weight loss medications and supportive injections to help promote weight loss that is speedy and substantial. Our medical providers can prescribe appetite suppressants and numerous weight loss medications to help with appetite and hunger. In addition to prescription appetite suppressants, we can also offer each of our patients lipotropic fat-burning injections to expedite the process of burning fat.
A weight loss counselor is helpful and necessary because he or she will help you engage in a complete assessment that includes all aspects of your life. This will allow us to identify potential obstacles and pain points that come up as you create a new relationship with food and, eventually, yourself.
The loss of excess weight could be something you may need to accomplish to enhance your health. Losing even a small amount of weight can improve heart wellness, boost heart function, decrease blood pressure, and speed up metabolism. Following the completion of your medical weight loss program, we will reset your ideal weight, so you can maintain your weight and remain on a healthy path now and in the future!
Allow our medical weight loss staff to assist you in selecting the correct weight loss treatment for your age and unique circumstances because we want you to look good and feel good.
Options Medical Weight Loss Center™ Weight Loss Programs
The carefully selected weight loss programs offered by our top professionals to help you achieve your weight loss goals include:
Options Diet System™ Prescription Program
Options trademarked ketogenic diet program is great for anyone trying to lose 10 lbs to 110 lbs within a duration as short as six weeks or up to thirty-four weeks. While participating in this weight loss program, our medical weight loss doctor prescribes a patient with an FDA-approved weight loss medication to help manage appetite and hunger. The available appetite suppressants include, but are not limited to:
Options Diet System™ Non-Prescription program
This Options one-of-a-kind ketogenic diet program is designed for the weight loss patient who chooses not to have his or her medically supervised program aided with the help of our FDA-approved weight loss medications. The diet programs run for intervals of six or ten weeks and are guided weekly by our weight loss counselors, and they help:
If a patient chooses, we also offer our lipotropic fat-burning injections to aid them in their fat-burning process during this program.
Additional Options Medical Weight Loss Services
Vitamin C injections
Vitamin C is an essential vitamin in our diet. The vitamins support the production of new white blood cells called lymphocytes and phagocytes. This important nutrient is found in citrus fruits, peppers, and greens. However, receiving vitamin C through injection provides a greater boost to your immune system because it bypasses the long process of digestion and can, therefore can be fully absorbed by your body.

Eddy
"I had excellent results from the Phase I food plan. I moved into next phase after I lost 19 pounds. The Inbody test I take weekly shows me results immediately and the counselors are right there to guide me to the resuts I'm personally looking for. Also, I love the I food it doesn't taste like diet food which is very rewarding. It's a great on the go snack! The ladies in the office are very professional, they care about my results and there's so many different option's to get the results you're looking for. I've told many people if they want direct but very supportive help with their goals to go there."
Dedee
"I needed a change in life style. I found the support, professionalism and knowledge to meet my goals. The quality of food, service and communication I received made this journey fun and worthwhile. I learned what my body needs at 50 y/o. I am forever grateful to all the staff. Loosing 25 lbs of nasty fat makes me feel I love myself and will never neglect my health because "I'm too busy". I encourage you to do the same. You are worth it."
Troy
"I was hesitant to even make an appointment but in the end I had and awesome experience. They were totally friendly and professional. They were super accommodating to how I wanted to achieve my weight loss goals! I would recommend this place to anyone."