When you're on a weight loss program, changing your eating habits is essential to losing weight and keeping it off. Options Medical Weight Loss is proud to offer weight loss counseling as one of the services available and recommended to our patients, along with our Options Nutrition line of food which is optimized for fat loss.
Below, a few Options Medical Weight Loss Counselors share some of their favorite recipes and tips to getting the nutrients you need while encouraging fat loss.
A special thanks to our contributing weight loss counselors:
Danielle DiPietro, Chicago, IL
Jake Hane, Dublin, OH
Ali Lobo, Chandler, AZ
Karen McCarthy, Tampa Bay, FL
Willy Plaisir, Dublin, OH
Breakfast:
Willy Plaisir – For patients who have moved into Phase 2 of ODS, in which fruit is introduced, I recommend they add blueberries, strawberries, tangerine to Oikos triple zero Greek yogurt for a protein and vitamin packed breakfast or snack.
Karen McCarthy – Combine the Options Nutrition Chocolate Salted Caramel Shake powder with 1 cup of unsweetened almond milk and 1 TBSP of peanut butter (make sure the only ingredient is peanuts) for a little fat.
I use Options Nutrition Vanilla Shake as a base for fruit smoothies too (Phase 2 approved).
Danielle DiPietro – For patients that are morning coffee drinkers, but not too big on breakfast, I suggest using an Options Nutrition Ready-to-Drink shake as creamer or to throw in a shake powder like the mint chocolate or chocolate salted caramel to ensure they are getting some nutrients in right off the bat.
Lunch:
Karen McCarthy – I start with Options Nutrition Chicken Tortilla Soup and then add spinach, as well as some chicken to make it extra hearty.

Appetizer/Party Dip:
Danielle DiPietro – Buffalo Greek Yogurt Dip
2 Cups Shredded Chicken
1 Cup Greek Yogurt
6 tbsp. Options Hot Sauce
4 tbsp. Cottage Cheese
Add the 2 cups of shredded chicken with the 1 cup of Greek yogurt. Mix in 6 tbsp. Options Hot Sauce, 4 tbsp. cottage cheese, and 4 tbsp. mozzarella cheese. Then, bake in oven at 350 for 20 minutes.
(Recipe makes 6 servings) Serve with veggies or multigrain/whole grain crackers.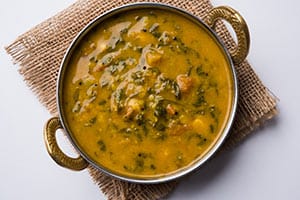 Dinner:
Karen McCarthy – Using the Options Vegan Chicken Curry and Options Vegan Lentil Curry as a base, I then add spinach or broccoli to it (the more veggies the better!).
Ali Lobo – Enjoy this high protein, low carb, tasty, and easy-to-make meal any time of day.
Shrimp Scampi Pasta
Ingredients (Makes 1-2 servings)
4 oz shrimp
1 Packet of Options Nutrition High Protein Fusilli
¼ cup vegetable broth or water
3 tablespoons lemon juice
4 cloves garlic crushed and minced
Dash of garlic powder
Dash of onion powder
Dash of chili or cayenne pepper powder to taste
Salt and pepper to taste
Directions
Start by adding 3 cups of water to boil on the stovetop. Once the water boils, add in packet of high protein fusilli noodles. Cook for 3-5 minutes. Strain the noodles. Add garlic to liquid ingredients. Add shrimp and additional spices. Add the cooked fusilli noodles to the shrimp and spices. Cook for 5-7 minutes until shrimp are pink and liquid is reduced. Serve hot or cold with a salad or on a bed of spinach.
Snacks:
Karen McCarthy – The Options Nutrition protein bars and mug cakes are great sweet treats!
Danielle DiPietro – I love all of our Options Nutrition wafers. My personal favorite is the Chocolate Raspberry or the Mocha. I will either eat them on their own or crumble it up a little bit and put it on top of yogurt! For people looking for a "sweet" flavored bar, the Options Nutrition Peppermint Cocoa tastes like a protein Thin Mint, the Caramel Cocoa tastes like a protein Snickers and the Chocolate Almond tastes like a protein Almond Joy.

Anytime tip:
Jake Hane – If you are struggling to get meals in due to suppressed hunger or need more protein, I suggest drinking an Options Nutrition Wildberry Refresher for a 15g of protein boost!
Danielle DiPietro – For patients who are unable to take breaks to eat at our desired hours due to the nature of their work – I have them fill up a 64oz container with water and put in two of the Options Nutrition Wildberry Refresher packets and sip on that. That way, we can make sure they are getting fuel but also getting water!
View all of our Options Nutrition food options.