Ready to lose all the weight you want, faster than you thought possible?
Free consultation and metabolism test

New GLP-1medications available

Easy to follow plans customized to meet your unique needs

All programs are medically supervised

Rated 4.8 out of 5 stars with over 1,500 reviews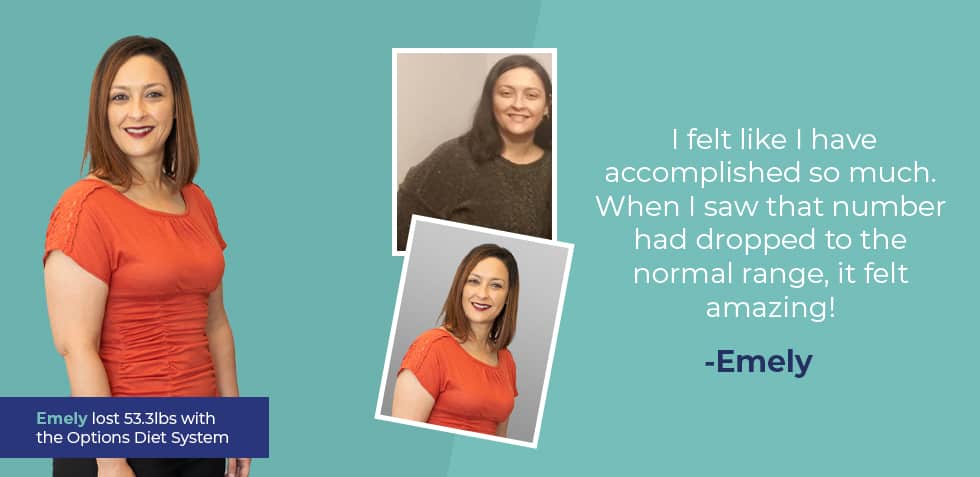 Read Emely's Story
Their snacks are amazing. I actually am hooked on their chocolate wafers, I can't get over them, but they're just the right balance. And they make me feel full, so I absolutely love their food.
It taught me how to eat, basically, I found out that I was not eating sufficiently. With the Options diet, they just gave me a schedule of foods and how I should be eating every two to three hours versus every five or six hours. It was a learning experience for me.
I felt like I have accomplished my goals with Options.
Start your journey
What better place than here? What better time than now?
We all have to start somewhere. To get you on the right track to achieving your weight loss goals, we offer a free metabolic test and complimentary consultation to assess where you're at and where you want to be. We'll review your weight loss goals, medical history, current nutrition, and goal timeline. From there, we can customize a plan tailored to your individual needs, aspirations, and lifestyle. Our doctors will manage your prescriptions and our weight loss counselors will provide guidance on your diet and support you every step along the way. Submit the form above to get your free consultation.
The material on this website is for informational purposes only and is not a substitute for medical advice by a physician or treatment for any medical conditions. You should immediately seek professional medical care if you have any concern about your health. Options Medical Weight Loss™, Options Diet System™, Options HCG System™, "OPTIONS for every BODY™" are registered trademarks of Options Medical Weight Loss.