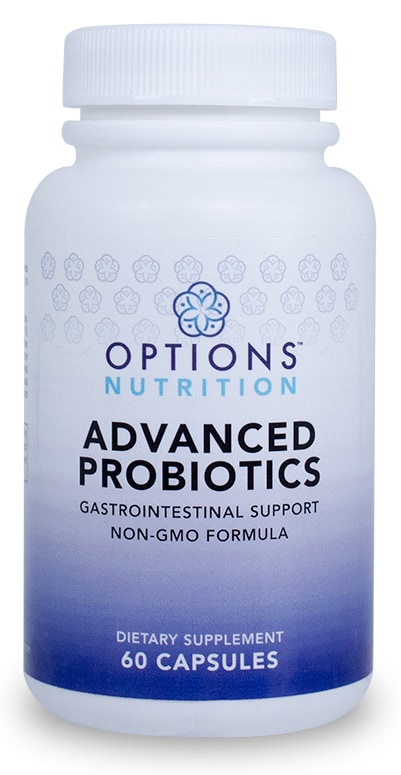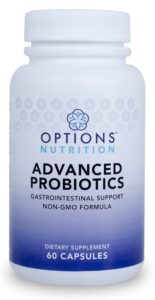 Probiotics are naturally occurring bacteria important for overall health, especially digestive health. Probiotics are often referred to as "good" gut bacteria because they help maintain healthy gut function. They operate by lining the digestive tract and supporting the body's ability to absorb nutrients and fight infection.

Benefits of Probiotics
Strengthens immune system
Improves digestion
Increased energy from production of vitamin B12
Reduces risk of leaky gut syndrome and inflammatory bowel disease
Aids in weight loss
A good manufacturing practice (GMP) certified supplement, Options Probiotic is specifically designed for weight loss.

How It Works
Probiotics are live microorganisms that are naturally occurring in the gut. They are the "good" bacteria that are shown to have many different health benefits, such as supporting your body's digestive system, improving nutrient absorption, and boosting your immune system to properly fight infection. Probiotics are important for maintaining a healthy balance in your body and can be beneficial for weight loss as well. People with obesity tend to have less diverse gut bacteria compared to lean people, which can lead to more weight gain. Probiotics seem to help with weight loss by influencing appetite and energy usage via the production of short-chain fatty acids. Certain probiotics may even inhibit the absorption of dietary fat, leading to less fat storage. Options Probiotic contains the bacteria that is necessary to support a healthy gut and support fat loss.
When starting a diet, it's important to take a probiotic supplement to help restore the balance of good bacterium. Over time, agricultural practices and overuse of antibiotics can kill off healthy bacteria. Dieting also restricts you from eating a variety of food sources where probiotics are found, so adding in a supplement may be beneficial.

How It's Used
You can take two capsules of the Options Probiotic at any time during the day. Options Probiotic does not require a prescription. You may continue the use of Options Probiotic after you've reached your goal and throughout the Lifestyle Program if desired.
Supplement Facts
Serving Size 1 Vegetable Capsule
Servings Per Container: 60
                                                                                             
Amount per serving                                             %DV
Probiotic Bacteria (5.75 Billion CFU ꝉ)                9 mg *
Consisting of:
DE111 ® (Bacillus subtilis)
Lactobacillus rhamnosus
Lactobacillus casei
Bifidobacterium longum
Lactobacillus acidophilus
Lactobacillus plantarum
Bifidobacterium breve
*Daily Value not established
                                                                                             
Other Ingredients: Vegetable cellulose, maltodextrin, and medium-chain triglycerides.
                                                                                             
ꝉ Potency at time of manufacture. This product may be kept refrigerated to maximize shelf-life and potency.

DE111 ® is a registered trademark of Deerland Enzymes, Inc.
SUGGESTED USE: 1 capsule taken 1 to 3 times daily, preferably with meals or as directed by a healthcare professional.
                                                                                             
CAUTION:  Do not exceed recommended dose. Pregnant or nursing mothers, children under 18, and individuals with a known medical condition should consult a physician before using this or any dietary supplement. This product is manufactured and packaged in a facility which may also process milk, soy, wheat, egg, peanuts, tree nuts, fish and crustacean shellfish.
Start your journey
What better place than here? What better time than now?