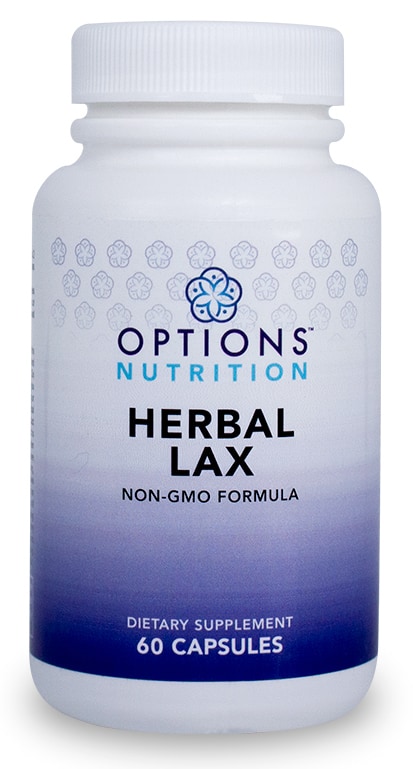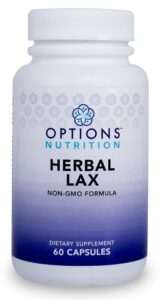 The Options Herbal Lax is intended to be used for immediate relief if you find that you are constipated for more than three days. It's made up of a blend of natural ingredients used to stimulate bowel movements. Only use the Options Herbal Lax occasionally and as recommended.
Benefits of Herbal Lax
Relieves constipation
Softens stool
Eases discomfort associated with constipation
Options Herbal Lax is a good manufacturing practice (GMP) certified natural laxative.

How It Works
Options Herbal Lax contains a blend of natural ingredients such as psyllium husk powder, cascara sagrada bark extract, senna leaf extract, flaxseed extract, and more, that are all used to stimulate a bowel movement. Cascara sagrada is one of the main ingredients that is commonly used for constipation, emptying the colon before a colonoscopy, and other conditions. Options Herbal Lax is intended for occasional use only. It should only be taken when you are constipated. If you are constipated and taking the Options Psyllium Husk, you should stop the psyllium husk and take the herbal laxative until you have a bowel movement. Once you are no longer constipated, you should stop the herbal lax and resume taking the psyllium husk as recommended.

How It's Used
Take one to two capsules in the evening until you have a bowel movement, for up to three days in a row if needed.
Supplement Facts
Serving Size 2 Capsules
Servings Per Container: 30
                                                                                             
Amount per serving                                             %DV
Proprietary Blend                                                1090 *
Consisting of Psyllium Husks Powder, Cascara Sagrada Bark Extract (10% Cascarosides), Senna Leaf Extract (20% Sennosides), Flaxseed Powder, Rice Powder, Aloe Vera Leaf (200:1 extract), Lactobacillus acidophilus (5 Billion CFU/ gram), and Medium Chain Triglycerides.
*Daily Value not established.
                                                                                             
Other Ingredients: Gelatin (bovine), rice flour, microcrystalline cellulose, vegetable magnesium stearate, vegetable stearic acid and silicon dioxide.
                                                                                             
SUGGESTED USE: FOR OCCASIONAL USE ONLY: 1 to 2 capsules taken at bedtime with 8 ounces of water or as directed by a healthcare professional.
SHORT TERM CLEANSING PROGRAM: 1 to 2 capsules taken at bedtime with 8 ounces of water for up to 15 days or as directed by a healthcare professional. Do not repeat cleansing program for at least 6 to 8 weeks.
CAUTION: Do not exceed recommended dose. Taking this product without adequate fluid may cause it to swell and block your throat or esophagus and may cause choking. Do not take this product if you have difficulty swallowing. If you experience chest pain, vomiting, or difficulty in swallowing or breathing after taking this product, seek immediate medical attention. Read and follow directions carefully. This product contains cascara sagrada and senna leaves. This product is not intended for pregnant or nursing mothers or children under the age of 18. Do not use this product if you have abdominal pain, diarrhea or loose stools. Rectal bleeding, abdominal cramping, and / or failure to have a bowel movement after the use of a laxative formula may be an indication of a more serious condition. Should this occur, or if you have a known medical condition and are taking medication, consult your physician prior to taking this or any dietary supplement. This product is manufactured and packaged in a facility which may also process milk, soy, wheat, egg, peanuts, tree nuts, fish and crustacean shellfish.
Start your journey
What better place than here? What better time than now?