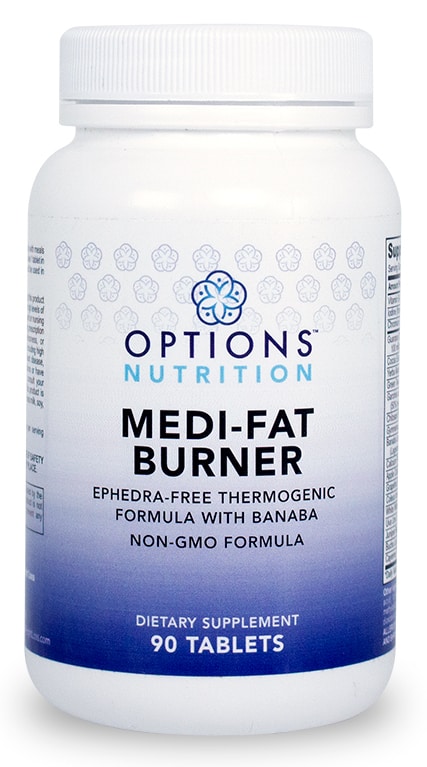 The Options Medi-Fat Burner is an herbal metabolism-boosting supplement. The combination of natural ingredients works together to help the body break down fats more efficiently and will help increase your energy throughout the day. This supplement may function as a natural appetite suppressant due to the organic sources of caffeine found in the product. We recommend adding the Medi-Fat Burner supplement to your diet plan to kick-start your fat loss if you are not taking any prescribed appetite suppressants.

Benefits of Medi-Fat Burner
Enhances fat-burning
Helps boost metabolism
Increases energy
Supports fat loss & overall weight loss
Options Medi-Fat Burner is a good manufacturing practice (GMP) certified supplement that helps aid in fat loss and may increase energy.

How It Works
Options Medi-Fat Burner contains all-natural herbal ingredients that have been shown to aid in fat loss and increase energy. The combination of these ingredients works together to help the body break down fats more efficiently, especially when paired with a healthy diet. The main ingredient in Options Medi-Fat Burner is guarana, which is a Brazilian plant native to the Amazon basin. Guarana extract contains caffeine, theophylline, and theobromine, which all help to boost energy. It also contains a variety of antioxidants, including tannins, saponins, and catechins. Antioxidants are important for neutralizing potential free radicals or harmful molecules that are linked to causing disease. Additionally, guarana is known for helping with memory, may boost heart health, may improve skin appearance, and has antibacterial properties important for killing off harmful bacteria.

How It's Used
Options Medi-Fat Burner is best for our non-prescription patients who do not qualify for an appetite suppressant or are sensitive to appetite suppressants.
You can take one tablet in the morning with a meal. Options Medi-Fat Burner contains caffeine; if sensitive to caffeine, do not take with coffee or other caffeinated beverages.
Options Medi-Fat Burner should not be taken if you are already taking a prescribed appetite suppressant. Combining a fat burner and an appetite suppressant may lead to increased heart rate.
Supplement Facts
Serving Size 1 Tablet
Servings Per Container: 90
                                                                                             
Amount per serving                                             %DV
Vitamin B-6 (as pyridoxine HCI)           25 mg   1471%
Iodine (from kelp)                               150 mcg     100%
Chromium (as picolinate)                  100 mcg     286%
                                                                                             
Guarana (33% extract providing                    300 mg*
100 milligrams of naturally-occurring caffeine)
Cocoa Extract (98% Theobromine)               100 mg *
Yerba Mate Powder                                           50 mg *
Green Tea Leaf (98% extract)                           50 mg *
Garcinia cambogia Leaf                                    125 mg *
(50% hydroxycitric acid)
Chitosan (90% deacetylation)                         125 mg *
Gymnema sylvestre Leaf Powder                       50 mg *
Banana Leaf (1% extract)                                   25 mg *
(Lagerstroemia speciosa)
Calcium Pyruvate                                                50 mg *
Apple Cider Vinegar                                            25 mg *
Grapefruit Powder                                              25 mg *
Coleus forskohlii Root Powder                           25 mg *
White Willow Bark Powder                                25 mg *
Uva Ursi Leaf Powder                                         25 mg *
Juniper Berry Powder                                         25 mg *
Buchu Leaf Powder                                            25 mg *
Cayenne Pepper (40M HU/g) (fruit)                  10 mg *
*Daily Value not established.
                                                                                             
ALLERGEN WARNING: CONTAINS SHELLFISH (CRAB AND SHRIMP).
SUGGESTED USE: 1 tablet taken 1 to 2 times daily, preferably with meals or as directed by a healthcare professional. For best results, take 1 tablet in the morning and 1 tablet early afternoon. This product should be used in conjunction with a sensible diet and exercise program.
CAUTION: Do not exceed recommended dose. Avoid taking this product in conjunction with other dietary supplements which contain high levels of elemental chromium. This product is not intended for pregnant or nursing mothers, children under the age of 18, r individuals taking prescription drugs. Discontinue use immediately if nausea, sleeplessness, or nervousness occur. If you have a known medical condition including high blood pressure, diabetes, any cardiovascular disorder, heart disease, hyperthyroidism, if you are taking antidepressant medications or have questions about the advisability of taking this product, consult your physician before using this or any dietary supplement. This product is manufactured and packaged in a facility which may also process milk, soy, wheat, egg, peanuts, tree nuts, fish and crustacean shellfish.
WARNING: This product contains 100 mg of caffeine per serving (equivalent to approximately 1 cup of coffee).
Start your journey
What better place than here? What better time than now?