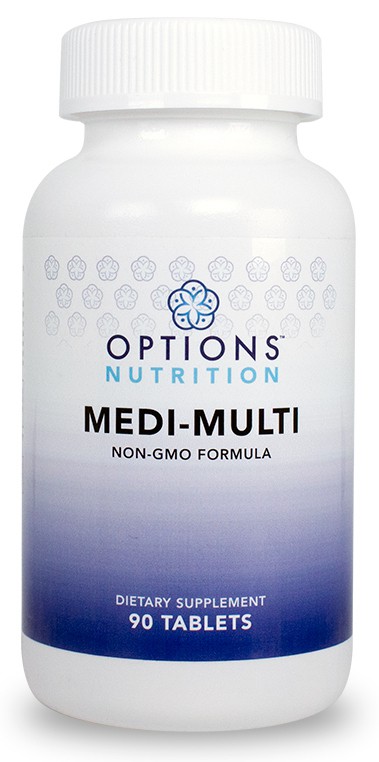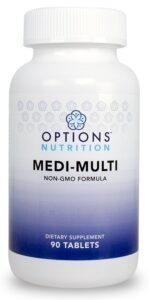 Vitamins and minerals are required by your body for numerous biological functions. While you can obtain vitamins and minerals by eating a nutrient-dense diet made up of fruits, vegetables, whole grains, legumes, nuts, and healthy fats, being on a diet will restrict your consumption of these foods. It's best to take a supplement to ensure you are getting the recommended daily allowance of each vitamin to prevent vitamin deficiencies, hair loss, brittle nails, and fatigue.
Benefits of Medi-Multi
Prevents vitamin deficiencies
Promotes weight loss
Boosts immunity
Improves eyesight
Improves bone strength
Options Medi-Multi Vitamin is a good manufacturing practice (GMP) certified multivitamin supplement. It contains all the essential vitamins, minerals, and antioxidants your body needs for optimal health.

How It Works
Options Medi-Multi Vitamin is designed to supplement your diet for healthy weight loss during your program. Dieting restricts the consumption of various nutrient-dense foods, which may lead to vitamin deficiencies causing low energy, hair loss, brittle nails, and other health ailments. Adding a multi-vitamin can help prevent vitamin deficiencies and can aid in weight loss. Options Medi-Multi Vitamin contains several vitamins and minerals that help you lose weight, improve metabolism, and offer lasting energy, along with other health benefits. It's important to take a multivitamin supplement to ensure your body is getting everything it needs to function at its best.

How It's Used
Options Medi-Multi Vitamin should be taken once a day and can be taken with or without food. This supplement is required during your entire weight loss journey and may be continued throughout the Lifestyle Program if desired and beyond.
Supplement Facts
Serving Size 1 Tablet
Servings Per Container: 90
                                                                                             
Amount per serving                                           %DV
Vitamin A (as beta-carotene)
3000 mcg                  333%
Vitamin C (as ascorbic acid)
250 mg                  278%
Vitamin D (as cholecalciferol)
10 mcg                     50%
Vitamin E (as d-Alpha tocopheryl succinate)
34 mg                  227%
Thiamin (as thiamine monoitrate)
100 mg               8333%
Riboflavin                                 100 mg               7692%
Niacin (as niacinamide)         100 mg                  625%
Vitamin B-6 (as pyridoxine HCI)
100 mg               5882%
Folate                                      680 mcg          DFE 167%
(400 mcg folic acid)
Vitamin B-12 (as cyanocobalamin)
100 mcg               4167%
Biotin                                       100 mcg                 333%
Pantothenic Acid                      100 mg               2000%
(as d-calcium pantothenate)
Choline (as choline bitartrate)
100 mg                   18%
Calcium (as carbonate / amino acid chelate)
50 mg                     4%
Iron (as amino acid chelate)      18 mg                 100%
Iodine (as amino acid chelate)
150 mcg                100%
Magnesium (as oxide / amino acid chelate)
25 mg                     6%
Zinc (as zinc oxide)                       15 mg                136%
Selenium (as amino acid chelate)
20 mcg                  36%
Copper (as amino acid chelate)
0.5 mg                   56%
Manganese (as manganese sulfate)
6 mg                 261%
Chromium (as amino acid chelate)
250 mcg                714%
Potassium (as chloride / amino acid chelate)
10 mg                  <1%
Inositol                                                               100 mg *
PABA (para-Aminobenzoic Acid)                    100 mg *
Citrus Bioflavonoids                                           50 mg *
Betaine HCI                                                          30 mg *
Rutin Powder                                                       50 mg *
Trace Mineral Complex                                        1 mg *
*Daily Value not established.
Other Ingredients: Calcium carbonate, vegetable stearic acid, microcrystalline cellulose, croscarmellose sodium, hydroxypropyl methylcellulose, vegetable magnesium stearate, silicon dioxide, vanilla, and riboflavin coating.
ALLERGEN WARNING: CONTAINS SOY.
SUGGESTED USE: 1 tablet daily preferably with a meal or as directed by a healthcare professional.
CAUTION: Do not exceed recommended dose. Avoid taking this product in conjunction with other dietary supplements which contain high levels of elemental chromium. Betaine hydrochloride should not be used by individuals with a history of peptic ulcers or any condition associated with excess acidity. Pregnant or nursing mothers, children under 18, and individuals with a known medical condition including heartburn and diabetes should consult a physician before using this or any dietary supplement. This product is manufactured and packaged in a facility which may also process milk, soy, wheat, egg, peanuts, tree nuts, fish and crustacean shellfish.
WARNING: Accidental overdose of iron-containing products is a leading cause of fatal poisoning in children under 6. Keep this product out of reach of children. In case of accidental overdose, call a doctor or poison control center immediately.
Start your journey
What better place than here? What better time than now?