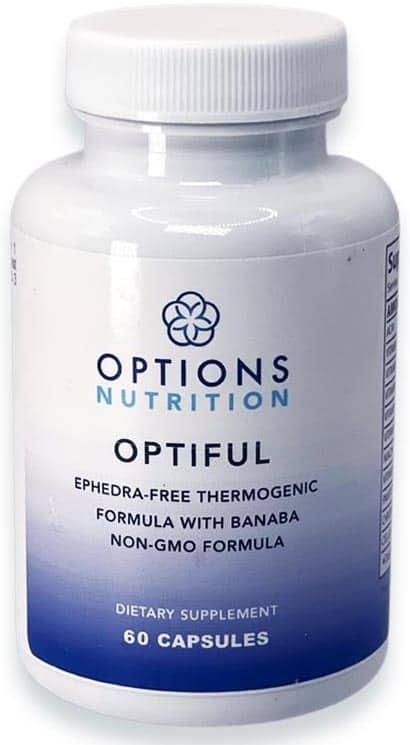 What is OptiFul
OptiFul is a natural, non-stimulant supplement that can help you lose weight. OptiFul contains cellulose which expands in your stomach, creating the sensation of satiety, and decreasing your total caloric intake. OptiFul supplement is best for patients who are sensitive to medications or need a booster while on an OptiMed.

Benefits of OptiFul
Creates sensations of satiety
Promotes weight loss
Optimizes nutrient absorption
May increase energy levels

How It Works
OptiFul supplement contains cellulose which is a dietary fiber. Fiber attracts water in the gut, forming a gel-like substance that creates bulk and slows digestion. This induces a prolonged feeling of satiation and a delay in gastric emptying, leading to fewer calories consumed and thus promoting weight loss. Once you take the supplement, the cellulose particles are released in the stomach and absorb the water, growing and forming into a gel-like substance imitating the firmness of solid ingested foods. These particles continue to follow the natural digestive process: they are broken down in the large intestine, where they release the majority of the water, and finally, are eliminated from the body. OptiFul is also a nutrient base, containing several vitamin and mineral compounds that help optimize the absorption of nutrients and may help increase energy levels. It contains no stimulants and is a safe appetite suppressant booster with any Options Nutrition program or OptiMed.

How It's Used
OptiFul does not require a prescription. Both prescription and nonprescription patients can take this supplement. You can take OptiFul before a meal, in the evening, or as needed for hunger reduction. You should take OptiFul with a full glass of water. Talk to your weight loss counselor, medical provider, or any Options Care Team member with questions on how to add OptiFul into your weight loss routine.
Supplement Facts
Serving Size 1 Capsule
                                                                                             
Amount per serving                                             %DV
Acai                                            200 mg                         *
Vitamin A                                1666 I.U.                 33.3%
Vitamin C                                  16.7 mg                 27.8%
Vitamin B-1                               0.67 mg                44.7%
Vitamin B-2                               0.83 mg                48.8%
Vitamin D-3                              1000 I.U.                250%
Niacin                                         6.67 mg                33.3%
Vitamin B-6                                     3 mg                 150%
Pantothentic acid                           1 mg                  10%
Chromium                                 125 mcg                105%
Cellulose                                      500 mg                       *
*Daily Value not established
                                                                                             
Other Ingredients:  Vegetarian Capsules, Hydroxypropyl Methylcellulose, Purified Water, Silicone Dioxide.
                                                                                             
Dosage and Use
FOR OCCASIONAL USE ONLY: 1 to 3 capsules twice daily with 8 ounces of water or as directed by a healthcare professional.
                                                                                             
CAUTION: Do not exceed recommended dose. This product should be consumed with at least a full glass of liquid. Consuming this without enough liquid may cause choking. Do not consume this product if you have difficulty swallowing. If you experience chest pain, vomiting, or difficulty in swallowing or breathing after taking this product, seek immediate medical attention. Read and follow directions carefully. This product is not intended for pregnant or nursing mothers or children under the age of 18. Do not use this product if you have abdominal pain, diarrhea, or loose stools. Tectal bleeding, abdominal cramping, and/or failure to have a bowel movement after the use of a laxative formula may be an indication of a more serious condition. Should this occur, or if you have a known medical condition and are taking medication, consult your physician prior to taking this or any dietary supplement. This product is manufactured and packaged in a facility that may also process milk, soy, wheat, egg, peanuts, tree nuts, fish, and crustacean shellfish.
Start your journey
What better place than here? What better time than now?