In celebration of International Women's Day, we're excited to feature Chief Medical Officer for Options Medical Weight Loss, Dr. Katrina A. Mattingly. She is a board-certified obesity medicine specialist who was recently named Chief Medical Officer for Options Medical Weight Loss. Dr. Mattingly has conducted clinical research on obesity and works to educate the Options medical team on various treatments and medications to ensure healthy weight loss for patients, with the goal of decreasing the disproportionate rates of obesity in America. She is board-certified in both obesity medicine and emergency medicine.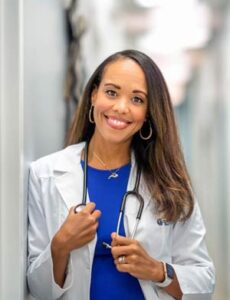 As a former emergency medicine resident with the University of Chicago Medical Center, and in her current professional endeavors, Dr. Mattingly has traveled significantly on international medical missions, airplane and helicopter medical aero transport evacuations, and has helped to build healthcare infrastructure and training of personnel in developing countries. To date, she has done such work in Haiti, China, Japan, Canada, Chili, Ghana, and Mexico.
On the domestic front, Dr. Mattingly established and oversaw a medical community service outreach program during her residency at the University of Chicago Hospital system, serving as its first Chief of Community Service, and was subsequently awarded the University of Chicago Emergency Medicine Residency Community Service Award in 2011. Her remarkable awards and acknowledgements go on to include publications, media appearances, and conference speaking throughout the country. She has lectured to underserved populations on topics such as minority skin care, diabetes, and heart disease. In her med-legal work, she has presented at the National Bar Association national conference and undertakes criminal case medical review.
During the COVID-19 pandemic, Dr. Mattingly continued to provide convenient, accessible COVID-19 testing to patients across multiple states. To date, she has provided access for early detection to thousands of patients.
Dr. Mattingly received her education at the Alabama School of Math and Science, Hampton University (summa cum laude), and Meharry Medical College (with highest honors) where she was inducted into the Alpha Omega Alpha Honor Medical Society.
She is an active member of Alpha Kappa Alpha Sorority, Inc., and Jack and Jill of America, Inc. She also works with the Gandou Ministry in Haiti. In her spare time, Dr. Mattingly loves scuba diving, international travel, wine tasting, hunting for underground dining experiences and eating anything with truffles. On any given day, you will find her spending time with her husband and three children of different ages, all born in the month of May, including daughters who are birthday twins.
We are grateful to have Dr. Mattingly leading our medical team with her compassion, dedication to community and zeal for bringing medical access to underserved areas and populations.