It was an excellent start to the new year for 314 of our patients that participated in the 2022 Transformation Challenge. We saw excellent results from around the nation and we've found our winners!
The weight loss challenge ran from January to the end of April and included contestants from all our Options weight loss clinics. For each clinic, we chose one winner that was based off the percentage of body fat lost.
Once we had our finalist, there were two individuals who rose above and beyond to take home our winning spot. One male and one female were chosen, and those winners are Tiffini and Tyler! Both Tiffini and Tyler will receive a $2,500 check for their hard work.
Continue reading to see both Tiffini and Tyler's journey with Options Medical Weight Loss.
Tiffini From South Loop – Chicago Weight Loss Clinic
Tiffini Wilson from the South Loop clinic is the 2022 Transformation Challenge female national winner. Tiffini's journey started after a doctor's visit where she learned she was on her way to being diabetic. Tiffini decided to take things into her own hands and begin a healthier lifestyle with the help of Options Medical Weight Loss. Tiffini lost 31.5lbs and had a 15.3% change in body fat over the course of her 12-week challenge!
"The biggest thing that I like, though, is that I'm healthy and happy in the skin that I'm in."
Tyler From Gahanna, Ohio Weight Loss Clinic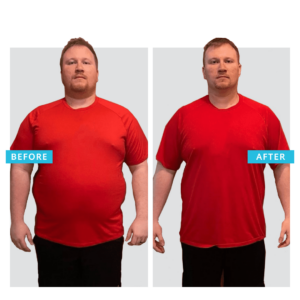 Tyler Jackson from the Gahanna clinic is the 2022 Transformation Challenge male national winner. Tyler wasn't happy or confident, and felt that his lifestyle was letting his kids down. With the help of Options, Tyler lost 45.8lbs and had a 30.0% change in body fat over the course of his 12 week challenge!
"I feel happier, and I'm overall just a happier person and a better parent."
Congratulations to all our entries and we are so proud of the work everyone put in. Tiffini and Tyler both came to Options for different reasons but were able to find comfort in the solutions they found. These two stories go to show you that no matter where you are at in life, there is always time to make a change!