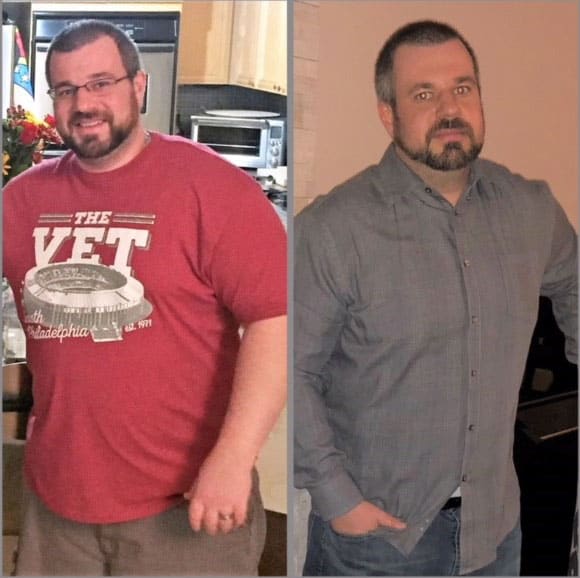 JEFF FISHER
Total Weight Loss: -44lbs in 5 months
I was tired of being overweight.  I knew I let things get out of control.   I needed help correcting the problem.  Throughout my life I have tried dozens of diets, and have had a lot success.  Success at losing, success at gaining everything right back.  This time I was stuck, I'm older, and let things (diet and exercise) get out of control.  My normal fad diets, and supplements were no longer working and I needed real help to lose this weight; for good.
As I just mentioned this isn't my first time down this road, and so I do have a pretty solid understanding of nutrition and supplements.  I will admit that when I made the initial consultation appointment I was not all that convinced about this place or their products.  I went to the initial consultation very skeptical almost looking to "demystify" their claims and science.  I also had a slight misconception that this may be more geared towards women only, and was afraid this program wouldn't work for me.   I couldn't have been more wrong.
The environment is very nice and welcoming.  The staff is upbeat and personal.  They take the time to get to know you, and your story.  On my second visit everyone greeted me by name, with a smile.  By the third or fourth week I found myself looking forward to going.  This team is genuine, their smiles are infectious.
Knowledge is Key, and they have a lot.
My initial consultation was prepared by Scott.  He spent time reviewing my paperwork, and had about 20 minutes of follow up questions before he even put me on the scale to get my measurements.  You can tell he was interested in my goals before he even thought of telling me about their products and programs. Scott was very open and honest while explaining the programs.  His goal was to make sure I would be successful.  He was never just selling stuff.
My second Visit was basically a medical check-up.  I was actually pretty surprised about this step.  Before I started my sessions and diet, a real medical team did a quick once over, including blood work, to be sure that my body is up to the challenge.  The detail and explanation this group did to be sure I understood every facet and test result was amazing. Even before I started the program, I knew and felt that I was in good hands.
My third visit and beyond was with my Counselor Christina.  Christina was my counselor for both the HGC and Diet phases. Christina is extremely knowledgeable, driven and is constantly learning new ways to help you hit your goals, especially when you plateau.  Each week she analyzed my weigh-in results and my food journal to ensure that I was following best practices, as well as, making minor tweaks and edits so that I would have a better week.  There was never a time where Christina didn't know exactly what to do in order to set me up for a good week. Even if the tweak was purely motivational. You can tell she cares about her clients and her craft.  Without her, I would not have achieved my goals.
The Program itself is not easy. Some days will get tough, especially if you are a "snacker", like me.  They have a great support system and are very responsive for those times you need extra advice or mid-week adjustments.  I was very pleased with the supplements, and the food was surprisingly better than most other bars and replacement meals I have had in the past.  Everyone has their favorites; I found my groove with the soups and oatmeal.  (I still buy them) If sweets are your thing, you will be in good hands too.  Some of their bars really hit the spot when you're craving hit. The cost of the program(s), food, supplements, etc. is comparable to that of what you would have otherwise spent at a grocery store stocking up on all those unhealthy "Options". Picking up the food during your weekly sessions almost makes you feel overly productive, accomplishing 2 tasks at once and saving a trip to the store.
I walked into Options weighing 264 lbs. and almost 50% body fat.  14 weeks later I have lost 36.5 lbs. pure of body fat, gained 2.5 lbs. of muscle, and have drastically reduced the risk of diabetes and other heart related diseases that were inevitably going to start entering my life if I didn't get control of my weight.  I will still use their supplements and foods well beyond my program.
I am no longer a skeptic; I am yet another, Options Weight Management success story.  I would recommend Options to anyone interested in weight management.