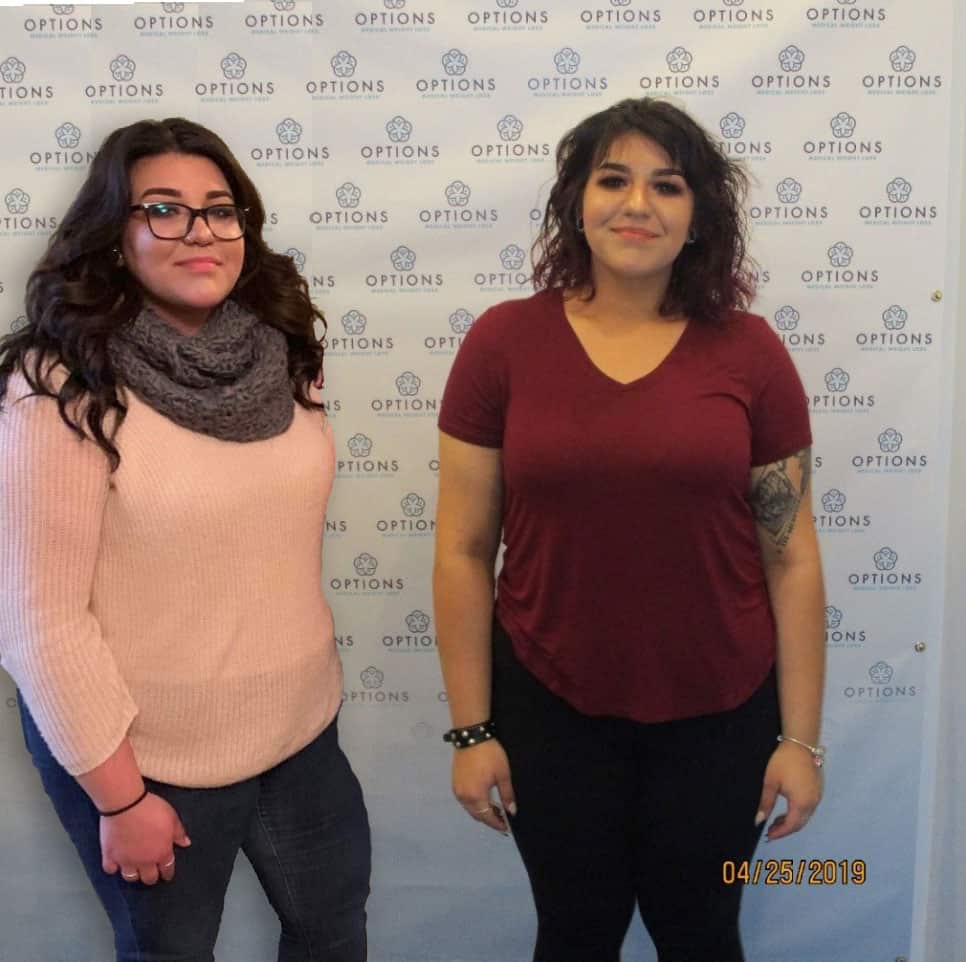 Start Weight: 256.7 lbs
End Weight: 213.6 lbs
TOTAL WEIGHT LOSS: 43.1 lbs
Personal Statement:
"Growing up in a Hispanic family, the term "diet" or "la dieta" has its many jokes. Though, being a plus size woman, the jokes can be very real and cut deep. Since I was a little kid I've always been on the chubbier side; I had nicknames such as "La Gorda" or "gordis", that would distinguish me by my weight.  And for a while I thought that it was normal to be this big. Most of my family members were on the plus side of the scale.   But after going to school and being exposed to people outside my family, I noticed that it isn't normal to be such a heavy and unhealthy weight.
In high school, while already a difficult time to discover "who you are" and what you want to do, being excluded or distinguished by the size of my body was a feeling that has stuck
with me to this day.  Not being invited to things like going to the beach, horseback riding, going shopping, or just not wanting to be seen with someone who was this big. It made me feel like I wasn't worth anything. It started to become something that others defined me as, and consequently, I defined myself that way too.
In my head I always had a pretty clear idea of the type of person I wanted to be.  But my weight was a major obstacle in that path. So I began to try different diets. No carb diets. No fat diets. No sugar diets. All liquid diets. The only thing they all had in common was I had zero results. By the end of high school, my depression and anxiety got so extreme, I started to starve myself to lose weight. On top of this, I overworked my body at the gym (but I really never knew what I was doing) trying to burn off calories. I was growing desperate. I was beginning to lose complete hope in ever being able to achieve the body and confidence to get me where I wanted to be. With that, I told myself I would try one last time. That's when I went to Options Medical Weight Loss in Glenview in hopes of making a change.
I was greeted by a welcoming environment and friendly women that made me feel good about myself. On my first counseling session, I didn't understand anything that I was being told. I took my packets and folders home and started to really educate myself into what I got myself into. This was never like any of the diets I've tried before. With Options, their diet plan was telling me everything that I COULD eat. Instead of just giving me my restrictions, my eyes were opened by the countless options of healthy vegetables and fruits that I could consume. I learned the proper portions of a meal and how a little can actually be a lot in the long run. Protein. Fiber. Grams of fat. Sodium. Words I had always heard of before but never thought actually made a difference. I was learning how my body was naturally supposed to function little by little and slowly understanding how my choices will impact my weekly weigh-ins.  This allows me to create healthy relationships with food again and have a better outlook on what "dieting" really means. My mood was beginning to feel lighter and my smile was becoming more of a common expression on my face that was once a constant frown. My acne began to clear up. I could feel that my body was almost telling me "THANK YOU".  And after losing 20lbs, I told myself I would hit the gym and educate myself on what was within my abilities. After the counseling sessions with April, she shared with me a website and recommended some workouts that helped me every time I've hit the gym. I've learned what muscles to work and the proper form when working them.  I've discovered through finding a balance between working out and having a consistent diet, that is the key to getting me closer to my goals, much faster than what I could have done by myself.
Throughout this process I have learned a lot.  I realize that dieting is no longer a temporary change. I'm finally starting to appreciate and be more mindful of the body I have and more importantly, I'm falling in love with myself and have never been more confident than where I am today.  To date, I have lost over 40 lbs in this program and I know this is just the beginning.  With the help and support from my counselor April, my family, and my friends, I will be able to reach my overall goals in no time."